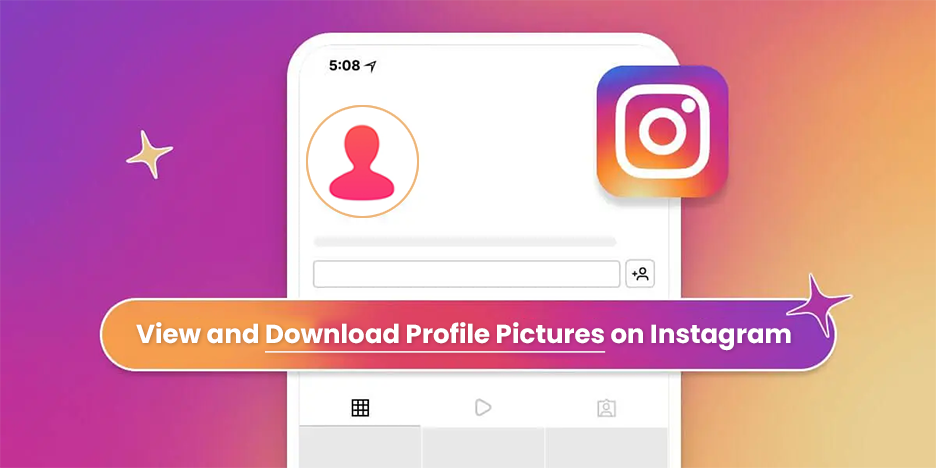 Instagram is a busy platform where visuals like photos and videos are the main focus. One such visual is a user's profile picture which is a key element that represents their identity on this platform. However, Instagram's default settings restrict the viewing and downloading of high-resolution profile pictures. This often poses a challenge for users who wish to view a profile picture in detail. Whether it's to recognize an old friend or to admire the photography, having the ability to view and download profile pictures on Instagram is a feature many desire.
In this article, we explore various methods to bypass these restrictions and access Instagram profile pictures in full size. Let's get started!
Method 1: Profile Picture Viewer Extension

The Profile Picture Viewer Extension is a handy tool that allows users to bypass Instagram's restrictions and view profile pictures in full resolution. Here's how you can use this extension:
Installation:

Begin by launching your Chrome browser.
Navigate to the Chrome Web Store and in the search bar, type "Profile Picture Viewer Extension for Instagram" and hit enter.
From the search results, click on "Add to Chrome" next to the appropriate extension, and follow the prompts to complete the installation.

Usage:

Once the extension is installed, locate and click on its icon near the top right corner of your browser.
Log in to your Instagram account when prompted.
Now, in the extension's search bar, enter the username or profile URL of the Instagram account whose profile picture you wish to view.
Hit enter and the extension will retrieve and display the full-size profile picture.
You can now view the picture in detail, and if needed, right-click on the image to save it to your device.
This method is straightforward and requires minimal technical know-how, making it a go-to choice for many Instagram users seeking to view profile pictures in full resolution.
Method 2: Online InstaDP Lookup Tool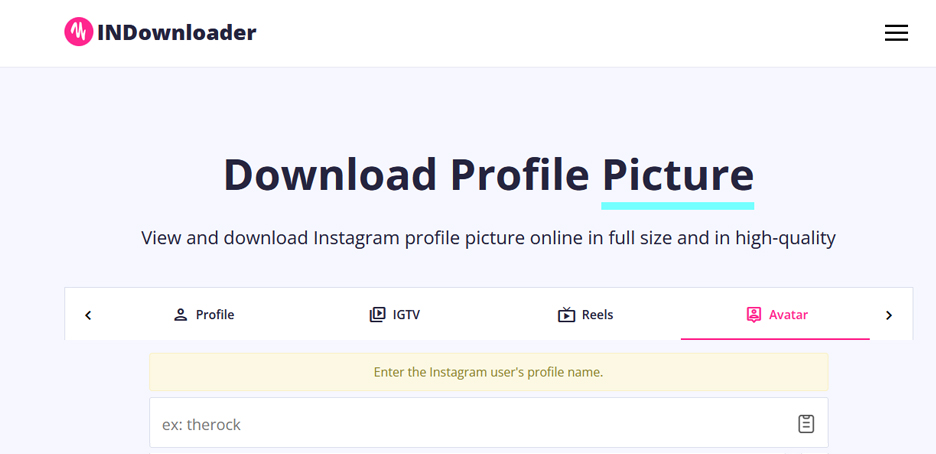 There are a number of online tools that you could use for downloading and viewing someone's Instagram profile picture but for the sake of this article we will high-light our favourite option, Indownloader.app. Follow these steps to get started:
Access the Tool:

Go to the Instagram profile picture downloader tool.
Paste or type in the Instagram user who's profile picture you want to download or view.
Hit enter on your keyboard or press submit if on your mobile phone.

Analyze Profile:

The IG downloader website will analyse the Instagram users account and extract a high quality version of the IInsta DP for you to view.

Download the display picture:

Once Indownloader.app finishes you can zoom in and view the Instagram profile picture or download the InstaDP to your computer, mobile phone, or tablet.
This method is the easier of the three methods listed in this article and can be done repeatedly for as many profile pictures that you'd like to download.
Method 3: Chrome developer console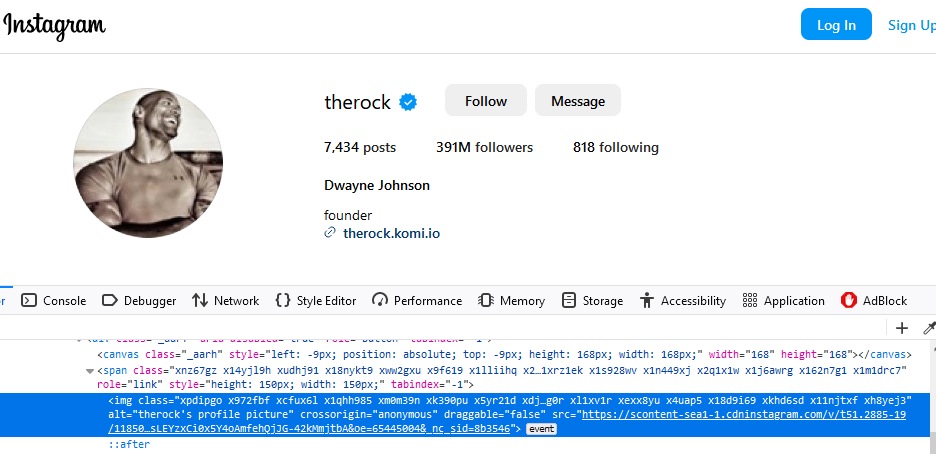 Accessing a full-sized profile picture on Instagram by modifying the URL directly can be a simple workaround. To accomplish this you'll need to be viewing the Instagram profile on your computer. Here's a more detailed breakdown of the steps:
Access Profile:

Navigate to the desired Instagram profile.

Obtain Image URL:

Right-click on the profile picture and select 'Copy image address' to get the image URL. If this doesn't work you'll need to open up the chrome developer tools by hitting F12 on your keyboard and searching for the profile photo URL.

Modify UR:

Paste the URL into a new browser tab.
Look for the dimensions (e.g., s150x150) in the URL and delete them

View Full-Sized Image::

Press enter to reload the page.
The full-sized profile picture should now be displayed.

Download Image:

Right-click on the image.
Select 'Save image as...' to download the image to your device.
This simple trick can bypass Instagram's restrictions, allowing you to view and download profile pictures in full resolution. Remember, this method might not always work because Instagram updates its platform and URL structure.
Conclusion
In a visually driven platform like Instagram, profile pictures are more than just identifiers; they are a gateway to a user's digital persona. Despite Instagram's restrictions on viewing and downloading profile pictures, the methods outlined in this article provide alternative avenues to bypass these limitations.
Whether you opt for a Profile Picture Viewer Extension, use an Online InstaDP Downloader Tool, or experiment with Direct URL Modification, each method offers a unique approach to accessing profile pictures in full resolution. As you explore these methods, you'll not only gain better visual insights into the profiles you encounter but also enhance your overall Instagram experience.